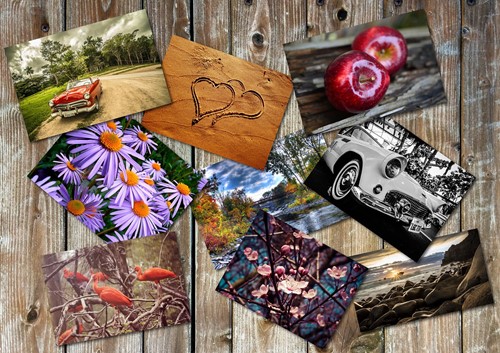 Image by Ivan Ilijas from Pixabay

Collage is a fun art project for all ages. You don't have to be a skilled artist to create something beautiful. And best of all, you have everything you need around the house in junk drawers and photo boxes. You can use just about anything for collage.
Try these collage tips and tricks using things you have around the house.
Pick a Base
Be creative when you're thinking about what to use for the base. It needs to be sturdy enough to hold the objects you'll glue to it. Beyond that, the possibilities are only limited by your imagination. Once you've chosen your base, then select a color and prep the surface with a couple of coats of paint.
Here are a few ideas for the perfect base for your project:
hardcover book cover
Wooden tray
Wooden boxes
Pictures frames with back
Wooden panels
Cardboard and thick foam core
Pro tip: Keep the base color neutral and incorporate pops of brighter colors with collage pieces such as tissue and colored paper.
Photo Collages
Old family photographs and prints of digital photos create a lasting memory piece for your home. Combining the two for making wall art collage works, too. As you're gathering the pictures, think about the story you're trying to tell. You'll find plenty of inspiration for photo collage in the memories family pictures bring to mind.
For example, maybe you have a collection of pictures from camping trips or winter ski vacations. These photo collections are ideal inspiration.
Photographs and cut out pictures from magazines are excellent choices for putting together a vision board. This type of collage uses the idea of goal setting as a basis for the images. Creating a vision board helps define your ideal life and plans for the future.
Ideas for Adding Elements
It's the little touches that make these projects even more special. You can cut letters out of colored paper, felt, and wrapping paper. Alternatively, cut whole words from magazines to incorporate into your collage. Also think about texture, surfaces, and whether the object is flat like paper or 3-D like a button.
Here are a few ideas for items to consider:
Confetti and glitter
Crayon and colored pencil shavings
Flower petals and other natural objects such as shells and leaves
Newspaper clippings and pages from old books
Pieces of puzzles and games
Stickers
School papers and kid's artwork
Special notes
Lists
There are hundreds of things lying around your house that you can incorporate.
Other Supplies & Tools
Scissors are a necessity. If you have arts and crafts scissors, that gives you even more options for creating decorative edges. An Exacto knife is always handy as well. And a variety of glue from Elmer's to wood glue might be needed, depending on what items you use for the collage. If you have Modpodge, that's perfect.