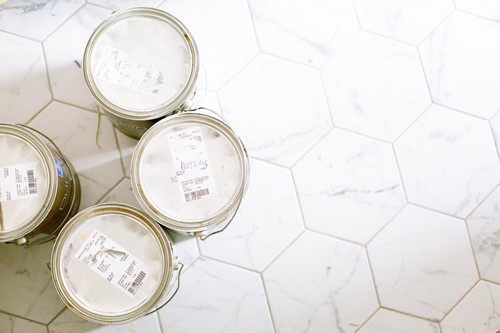 If you're getting ready to sell your home, then you might suddenly find yourself faced with deciding which home improvements are the best to tackle. Though it can seem like a hassle -- and it's going to cost you some time and money -- the reality is that even a few improvements could be beneficial. You might find that not only does your home sell more quickly than you expect but that the final sale price is above your listing price.
1. Landscape Your Yard
Your home's exterior is the first thing interested homebuyers see when they show up so make sure the yard is welcoming. In addition to keeping the grass mowed, be sure that any trees and bushes aren't overgrown. Plant some perennials if your yard needs some color or put some in a couple of pots by the front door.
2. Paint the Interior
Even though painting the interior of your home has one of the lowest costs of all home improvement projects, it also has a high rate of return. About 36 percent of homeowners decide to tackle this project. Be sure to opt for a neutral color though you might need assistance from a professional to determine what that is. It really depends on aspects like the flooring and cabinets, for example. Gray has been trending as a paint color for a number of years so it's a safe choice for interiors.
3. Replace the Flooring
More than a quarter of home sellers decided to replace the flooring before putting their home on the market. Upgrading to wood or faux woods floors throughout your home has several advantages. It creates a seamless flow from one room to the next. The right kind of wood flooring is also easier to maintain than carpeting.
If it's too costly to replace all the flooring in your home with wood, then new carpeting can still be a strong selling point. Just make sure that you choose a neutral color.
4. Update the Bathroom
Did you know that your bathroom can make your house seem outdated? Adding a few new touches such as new cabinets, countertops, fixtures and flooring can breathe fresh life into one of the important rooms of the house. Just make sure to go with a minimalist look to make the room look bigger.
Opting for any of the four home improvements noted above can really boost your return on your investment. If you aren't sure which project is the best one to tackle, ask a real estate agent. Their objective advice is grounded in the realities of what's selling in your area currently.