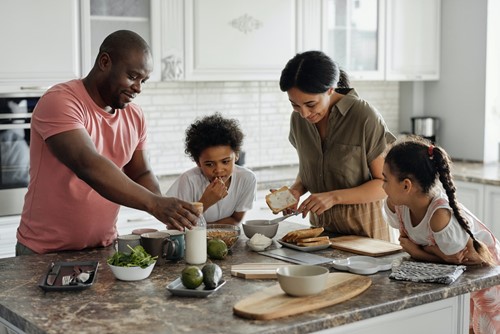 Photo by August de Richelieu from Pexels

If you're moving into a home with an older kitchen or if your current home has a more dated style, consider bringing it up-to-date with contemporary design. This style can freshen up your kitchen while giving it a more inviting atmosphere. Contemporary design includes a mix of minimalist, modern and classic elements that can enhance your kitchen's appearance and give it a more organized yet comfortable look and feel. Keep these tips in mind if you're thinking of choosing a contemporary design for your kitchen.
Select White or Stainless Steel Appliances
White and stainless steel appliances give contemporary kitchens a clean and streamlined appearance. These appliances tend to pair well with warmer wood tones that are a common feature in contemporary kitchen designs.
Choose Warm Wood Tones
Wood floors in kitchens provide an organic, contemporary style compared to tile floors or other flooring materials. Consider putting in a hardwood floor, along with wooden shelves, to achieve this look. You might also want to include warm wood cabinets in your kitchen, especially if the rest of the room has a cooler color scheme.
Consider Slab Door Cabinets
Slab door cabinets are ones that don't have panels or frames as more traditional kitchen cabinets do. These slab door cabinets are an ideal choice for contemporary kitchens, since they offer a more streamlined look with straighter, flatter edges. You can choose darker tones for a more sophisticated look, or go with white or light gray tones for an airier appearance. Warm wood slab door cabinets are another option to consider for a more cheerful look.
Install a Bold Backsplash
Contemporary kitchens tend to emphasize the cleaner lines and minimalist designs of modern interior design. However, they also typically have elements that are bit bolder, such as tile backsplashes in vivid patterns. Add a tile backsplash to your kitchen in an eye-catching design to get this look. This backsplash can add visual appeal to your kitchen, especially if it's surrounded by white or neutral counters and cabinets.
Go with Black or White Overall
Contemporary kitchen design can include a mostly black or mostly white color scheme. If you choose a white color scheme, add touches of color and warmth to wood shelves and cabinets or natural stone counters. If you choose a black color scheme, add other colors, such as blues, for a dramatic appearance, or touches of light colors to keep it from being too dark overall.
Combine Sleek Cabinets with Wood Features
Sleek cabinets give contemporary kitchens a stylish and streamlined look. When you combine these with natural wood features, you get a blend of modern and classic styles. Cabinets with a sleek, shiny finish can be done in a wide range of colors, depending on the color scheme you want to go with. For natural wood features, such as countertops, floors and shelves, you can choose warm woods or darker woods that pair well with your cabinet color.
Put up Pendant Lighting
Pendant lighting can give your kitchen a touch of luxury. You can hang this type of lighting over your kitchen island or over a kitchen table. Choose light fixtures with a classic look if the rest of your kitchen is filled with more modern elements, or pair a more modern pendant light fixture with minimalist elements.