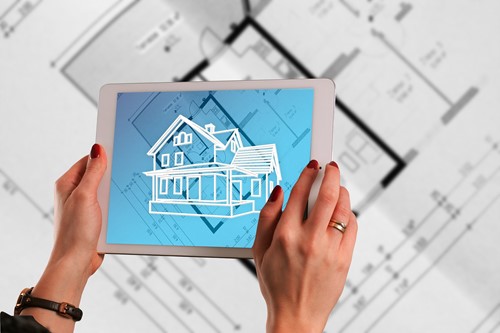 Prefabricated or "prefab" homes are new construction homes made quick and easy. Also called modular homes, this type of house is made using large pre-built pieces that would normally take multiple steps to construct. If you're wanting to build a new home but don't have the time or budget for something built from scratch, a prefab home is worth considering as an option. Here we'll go over some major advantages to prefab homes.
Affordable
Opting for a prefabricated home is simply one of the least expensive ways to get brand new construction. There are many factors that contribute to the difference in cost, but a significant amount of the savings comes from the required labor. When building a home from scratch, you'll need to hire multiple different people to help you with the process—and they will hire people to help them. Individual fees and hourly rates all combine into a high price by the time your home is ready to move in to. There is a single crew from a single company managing and executing every part of the process in a fraction of the time it would take to build traditionally.
Prefab home builders typically buy materials in bulk and then manufacture the pieces in one place. This can also mean lower overall material costs and lower cost for transportation and delivery.
Quick
Prefabricated homes can be move-in ready in under a week. While each build is different, one of the biggest advantages of a prefab home is just how quickly it can be accomplished. The logistics and communication are all handled by a single entity, which means less time lost in back-and-forth and delivery of materials. The prefab building process is far less sensitive to delays caused by weather and virtually eliminates possible delays that could occur normally in between various stages of the build. You have far less to worry about when it comes to unexpected delays in material transportation or even the actual construction. If you want a brand new home but don't have several months to wait, going with a prefab home is an extremely efficient option.
Sustainable
Speaking of efficiency: prefab homes are more energy efficient and produce less waste than traditional new construction. Energy efficiency is a top priority, both in the methods and materials used in prefabricated home builders use. Prefab home builders use the latest and greatest of windows, insulation, sealants and other materials to make sure you aren't spending extra energy and wasting money on utilities. Also, because of the way materials are obtained processed, there is less overall waste and fewer transportation emissions. A prefab home builder will know exactly how much of a material they require for a project which eliminates the chance of unusable extra material being thrown away. Builders can identify any issues of surplus early in the factory stage, meaning it's far easier to re-purpose that surplus for other projects.
Prefabricated homes are only getting more efficient as time goes on. Builders are constantly adapting and improving their methods and materials with new technology. If you are thinking about new construction and especially concerned with cost, timeline and sustainability, a prefab home might be the best option.