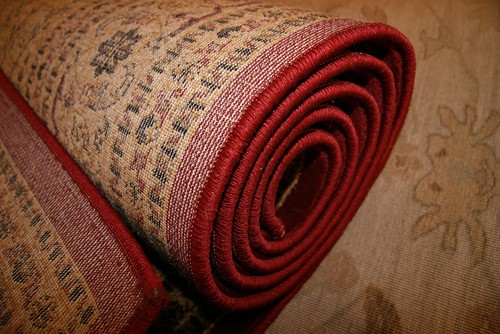 There are plenty of ways to upgrade a basement without expensive renovations. Whether your basement is unfinished or fully furnished, you can make a noticeable difference with some simple and budget-friendly decor choices. Here are some tips for affordable and easy basement decor to refresh your space.
Add Area Rugs for an Instant Comfort Upgrade
Area rugs can make an enormous difference especially in an unfinished basement with a poured concrete floor. Add color and texture to the space by placing a single large area rug in the center of the room. You can use it to ground the rest of your design and furniture arrangement while increasing the coziness.
The perfect area rug doesn't have to break the bank, either. You can even move a rug from elsewhere in the home as long as you add a waterproof pad underneath to protect it from basement moisture. If your basement is prone to occasional flooding, opt for an outdoor rug that will withstand the elements.
Create Definition By Hanging Curtains
Convert a large open basement into multiple zones without construction with curtains. Even adding a curtain to hide the more unsightly aspects of a basement, such as HVAC systems or hot water heaters, can make a big difference in the overall personality of the basement itself. Curtain installation options range from inexpensive tension rods to heavy-duty tracks installed in the ceiling or rafters.
Curtains in the basement can also break up the space and add visual appeal while also helping with sound dampening and insulation. Heavyweight thermal curtains can trap heat in a designated area and prevent it from being sucked away by a cold, empty basement.
Paint the Ceiling to Create More Space
Paint is one of the simplest and most affordable ways to make the entire space feel larger. Use a light color to create the illusion of a higher ceiling. This will also allow more light into even the most dimly lit basement environments.
If your basement is finished or if you're planning on adding drywall, the process is the same in the basement as the rest of the home. However, for unfinished basement ceilings, an electric paint sprayer will simplify and expedite the process. You can rent a power sprayer from your local hardware store for a fraction of the cost of purchasing one outright.
There is always a wide range of costs associated with home decorating and renovations. However, there are always budget-friendly options for creative homeowners willing to do a bit of work. Try these tips for a simple and inexpensive basement upgrade with no construction needed.